The EDDYCON CL is a fully portable, rugged eddy current instrument, delivering an exceptional performance and highly reliable inspection results.
Brochure Eddycon C&CL
WELDED JOINTS testing
Quick Start Guide
Also you may watch the Eddycon C Training video set. See more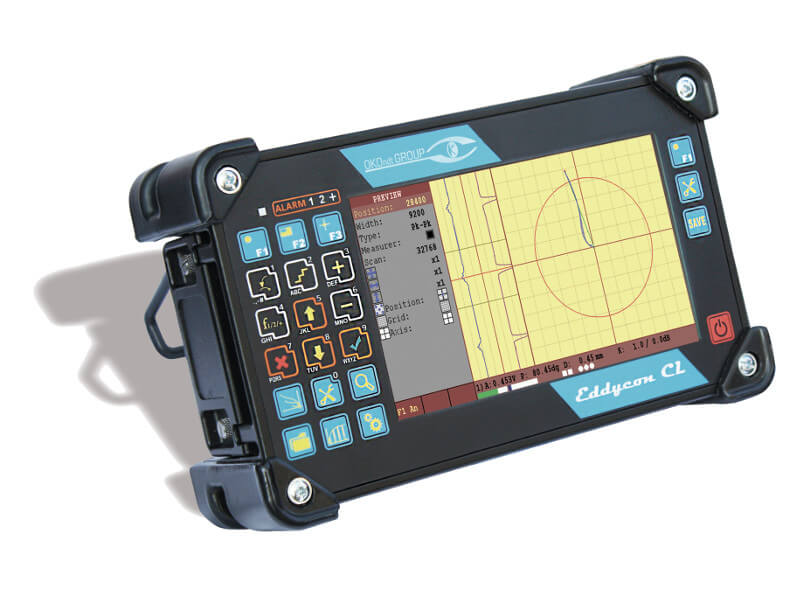 detection of surface and near-surface defects;
detection of subsurface defects (cracks, overlaps, holes, fine cracks, etc.) in non-ferrous conductive materials;
inspection of bolt holes with rotary scanners;
thickness measurement of paint coating;
measurement of electrical conductivity and magnetic permeability;
eddy current inspection of welding.
The Eddycon CL is ISO 15548 compliant.
The Eddycon CL allows full eddy current testing of aircraft parts according to the regulations of AIRBUS A318 / A319 / A320 / A321 NONDESTRUCTIVE TESTING MANUAL NTM, BOEING 737 NON-DESTRUCTIVE TEST MANUAL.
Key Features:
Simplicity of operation due to the user-friendly interface;

Sound and light alarm functions;

Possibility of avoiding the influence of lift-off noise and inhomogeneity of electromagnetic properties;

Extensive data storage;

Data transmission to a PC via USB flash drive or Ethernet.

Reviewing test results and printing out test reports;
Easy download of software upgrade via USB flash drives.

Defect depth evaluation capability;

Reviewing indications on the flaw detector;

-20°C to +50°C operating temperature range;

Continuous 8-hour operation with a quick-release rechargeable battery;

Small size and light weight –  up to 3.7 lbs (1.7 kg).
A fully portable instrument in solid housing
The Eddycon CL has a shockproof housing with rubber protective corners. The device can be utilized as a benchtop unit as well as a solution for harsh inspection environments. The Eddycon CL is furnished with a folding handle and a neck strap.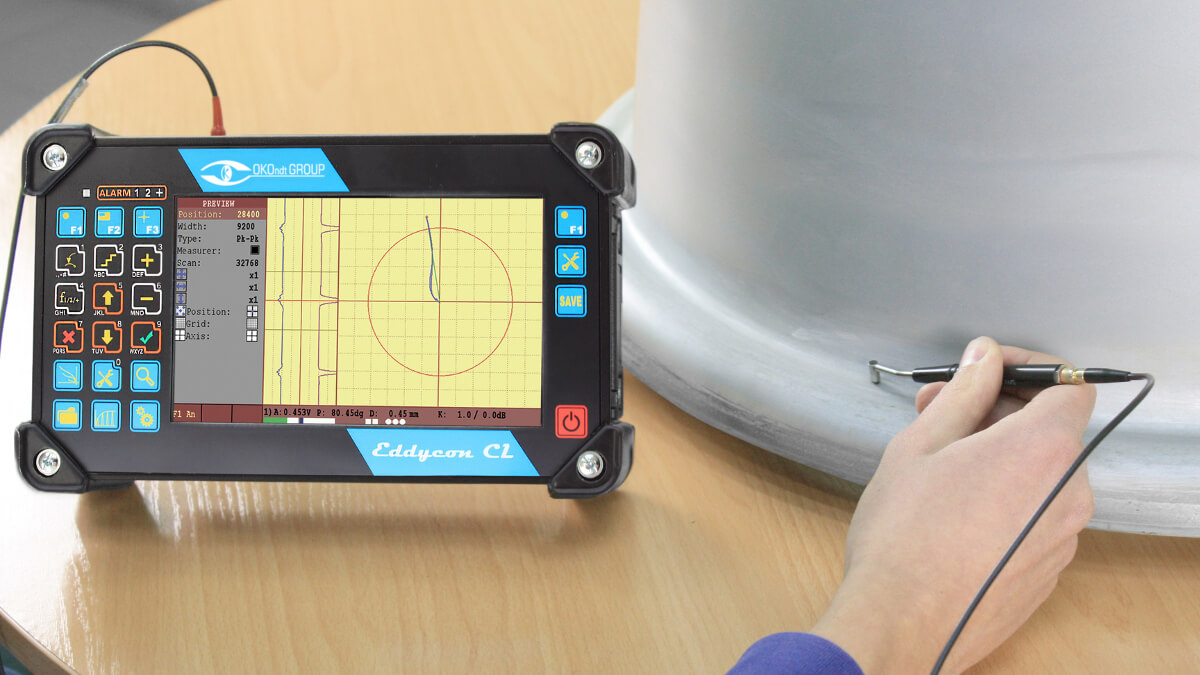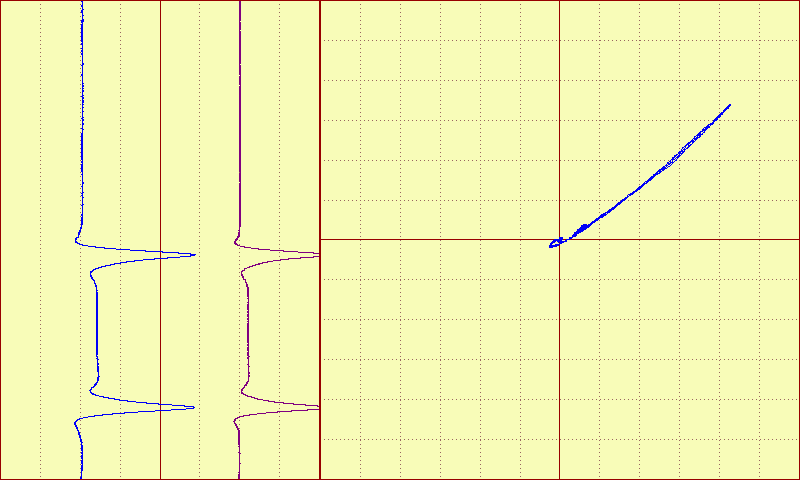 A large 7.2" TFT color display
A 800×480 pixel resolution display of the Eddycon CL ensures high visibility even from a distance and in any lighting conditions, which is of crucial importance for challenging inspections. The Eddycon CL screen has three display modes: light, dark, and standard.
Different modes of full-screen presentation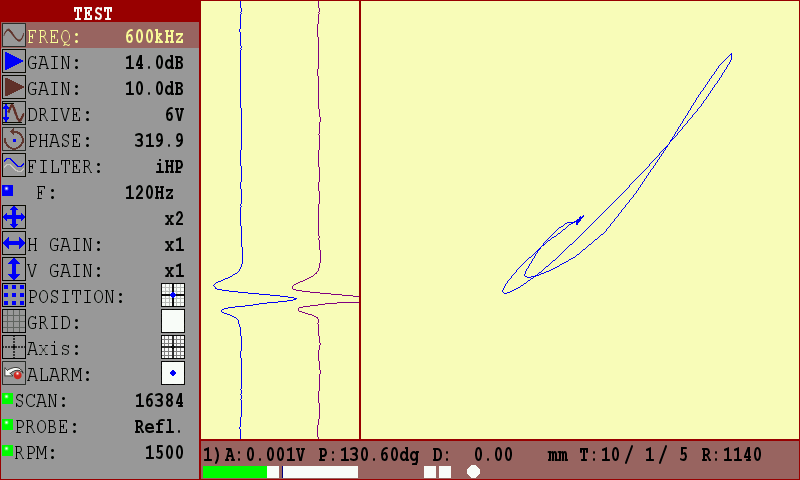 a) Menu+XY+A(t)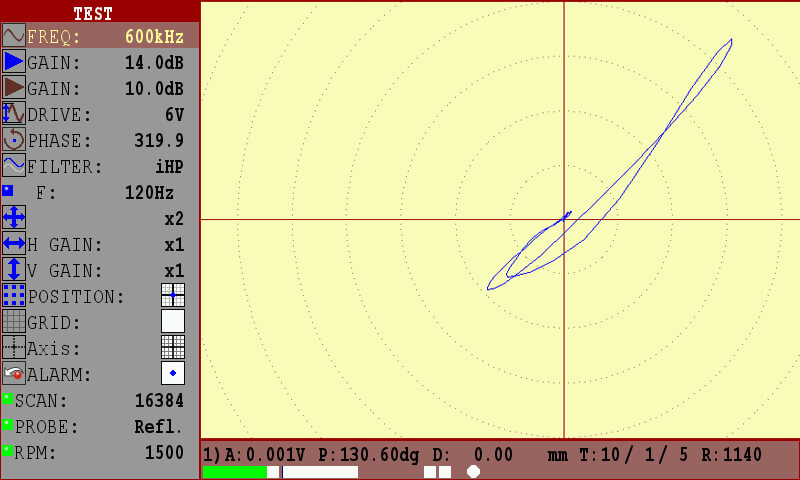 b) Menu+XY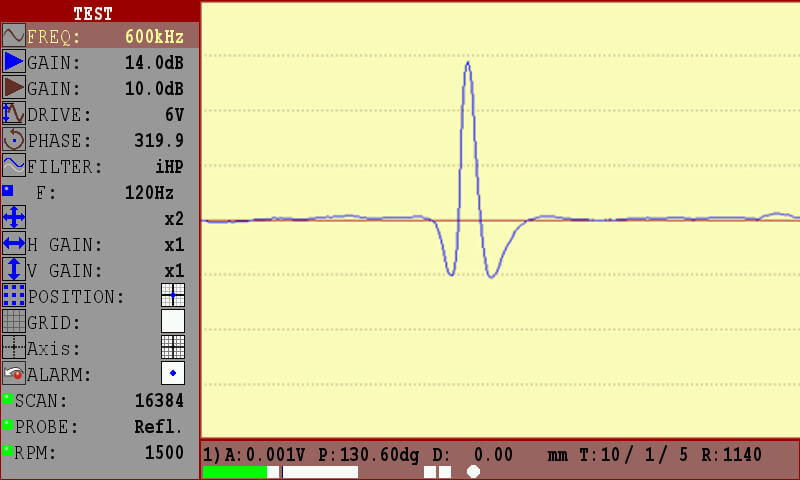 c) Menu+A(t)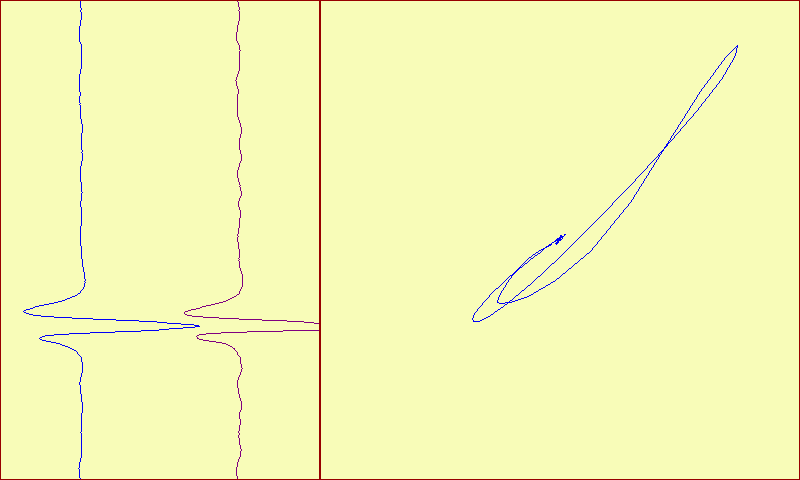 d) XY+A(t)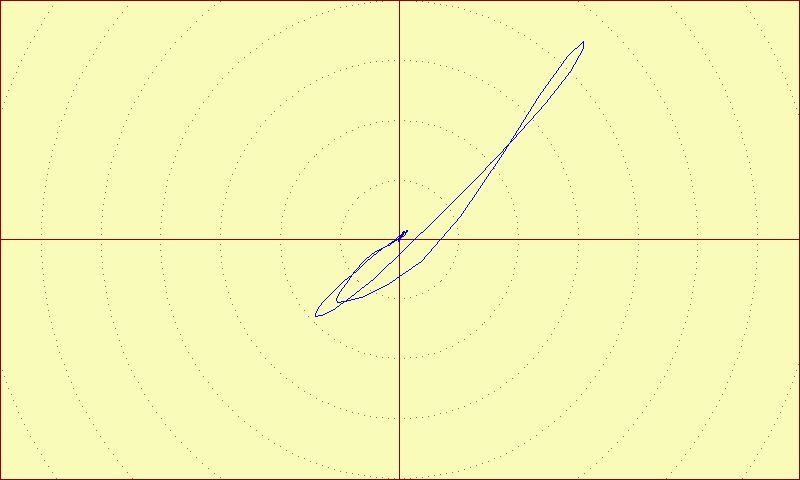 e) XY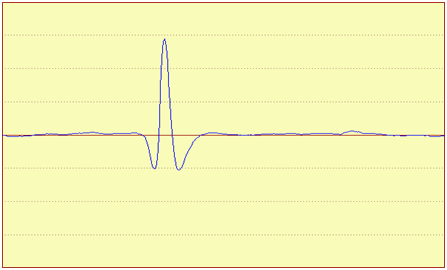 f) A(t)
Elaborated keypad design gives a quick access to any menu of the flaw detector by pressing a single key only!
TESTING menu - main operating mode of the flaw detector;
MEMORY menu - is used to save/download the settings and test results;
SETTINGS menu - basic settings of the flaw detector;
VIEW menu - allows viewing test results saved to the flaw detector's memory;
CALIBRATION menu - serves to create calibration curves for more precise evaluation of flaw depth.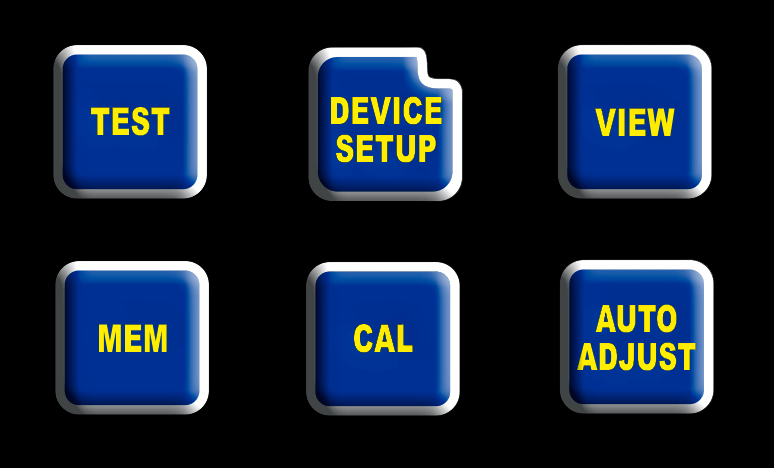 Industrial applications:
Railway
eddy current crack detection of railway parts and car units (wheelsets and axle box bogies of freight, refrigerator and passenger cars, automatic coupler, etc.).
Aerospace
eddy current inspection of aircraft engineering parts (wheel disks, skin, turbine blades, multi-layered structures, various holes, etc.).
Chemical
examination of pipelines, industrial tanks, etc.
OIL & GAS
eddy current crack detection of pipelines, turbine blades of gas-distributing stations (GDS), pressure vessels, etc.
Power
non-destructive testing of steam generator tubes and headers by eddy current bobbin probes, etc.
Heavy machinery
eddy current inspection of bars, wires, steel structures, mill rollers, plates, etc.
Eddycon is now available in two versions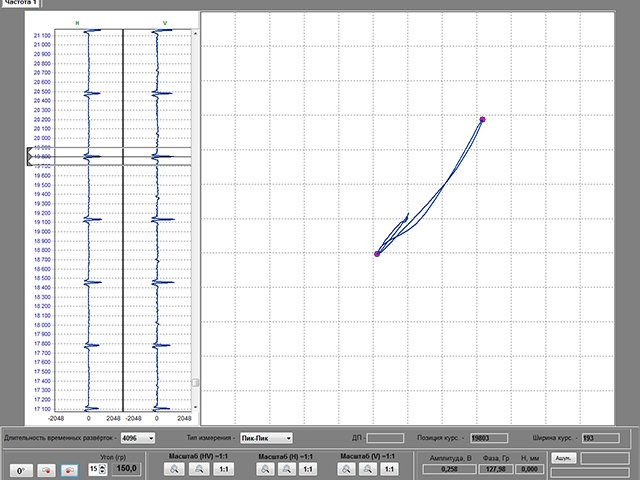 Specialized application-dependent software of the Eddycon C/CL multipurpose eddy current flaw detector serves for processing test results, as well as generating and printing out test reports. The software program allows working with the data saved on PC.
Main advantages of the program are as follows:
Intuitive user-friendly interface.
Easy viewing of test results for each frequency mode (Frequency №1, Frequency №2 & Mix).
Generation and storage of electronic reports.
Data output for each detected flaw, namely:

flaw location coordinate on a defectogram (if using an encoder);
signal amplitude and phase;
flaw depth.
The resulting electronic report contains all basic data on test performed, such as:
Company name, NDT department and inspector who performed the test.
Description of a test object.
All setting parameters of the instrument at the time of testing.
Parameters of signals coming from defects (amplitude, phase, depth).
Representation of the signals from defects in a complex plane or strip chart).
Inspection date.
Possibility to create reports of other types, when approved by the customer.
---
Housing
Overall dimensions

10" × 6.1" × 3.1" (256 mm × 156 mm × 80 mm)

Weight

up to 3.7 lbs (1.7 kg)

Applicable standards
СЕ, ISO 15548
Supply mains
100 V to 240 V, 50 Hz - 60 Hz
Inputs & outputs
2.0 USB-port (hub), Ethernet (Lemo 4-way), headphones (Lemo 4-way)
Keypad
American, International (icons)
Operation conditions
Operation temperature
-4 to +122° F (-20 to +50°C)
Storage temperature
-4 to +122° F (-20 to +50°C)
IP rating
IP 64
Battery
Type
Li-Ion 12V/4500 mA·h
Operation time
Normal mode — up to 7 hours; If using rotary scanners — 4 to 5 hours
Display
Display size

7.2"

Type
Color TFT (800×480 pixels)
Display modes
Normal, full-screen; three color schemes
Grid
Three types: coarse, fine, polar
Connectivity and data storage
PC software
Test results processing program
Data storage
MicroSD 4 Gb internal memory card (up to 64 Gb as an option);
ET specifications
Frequency range
10 Hz to 16 MHz
Gain
70 dB
Probe supply voltage
0.5 V; 1V; 2V; 4V; 6V
Additional gain
30 dB
Phase rotation
0 to 359.9
Digital scale
1/16 to 16, with a step of 6 dB
Test frequency
1 to 11 kHz
Signal indication time
0.1 s; 0.3 s; 0.5 s; 1 s; 2 s; 3 s; 4 s; 5 s; 8 s
Filter
Low-pass: 1 to 5 000 Hz
High-pass: 1 to 5 000 Hz
Bandpass
Averaging
Differential
Connected probes
Single, Reflection, Bridge
Probe connector
Lemo 00, Lemo 12-way / Lemo 16-way
Signal display modes
Complex plane – X(y);
Time base – X(t), Y(t);
Dual-frequency mode
Threshold level types
Circle, Threshold, Sector, Trapezium
Multi-frequency operation
Dual-frequency multiplexing;
Independent control of both frequencies;
Mix of two frequencies (F1 - F2, F1 + F2)
Related Products: