UTG-8 Intended Use
The UTG-8 is a portable ultrasonic high-precision thickness gauge intended for measuring thicknesses of materials from one side, inspecting and evaluating wall thinning, detecting pitted corrosion.
2-point calibration with automatic calculation of the optimal sound velocity ensures high precision and accuracy.
A special rubber shoe protects the probe and minimizes a potential impact of hand warmth on measurements.
The UTG-8 is compatible with a wide range of UT transducers, becoming a solution for a wide range of applications.
The UTG-8 can run up to 200 hours with a single battery pack. The display backlight can be automatically turned On/Off to prolong the battery life.
Designed for Demanding Industrial Conditions
The instrument is comfortable to hold with one hand during on-site evaluation.
The keypad is oil and petroleum resistant.
Numerals on the backlit display are easy to read, even with poor lighting.
The UTG-8 is sealed against water and dust (IP65).
---
Applications in Industries
Power generation - measurement of wall thickness in pipelines, pipe elbows, base materials (semi-products), as well as thickness of near-weld zones in pipe joints.
Aviation - measurement of wall thickness of aircraft steel parts and portholes (windows) with single-sided access to the test piece.
Metallurgy and machinery - measurement of wall thickness of slabs and strips; sample check of wall thickness of rolled plates; measurement of wall thickness of boilers, tanks, pipes.
Pipe industry - measurement of pipe wall thickness; detection of pipe wall laminations and pipe wall thinning.
Oil and Gas industry - measurement of wall thickness of pressurized vessels, above-ground pipeline branches, underwater line manifolds of main gas pipelines, gas and oil tanks, as well as pump and valve bodies.
Railway - thickness measurement of railway wheel discs during their production.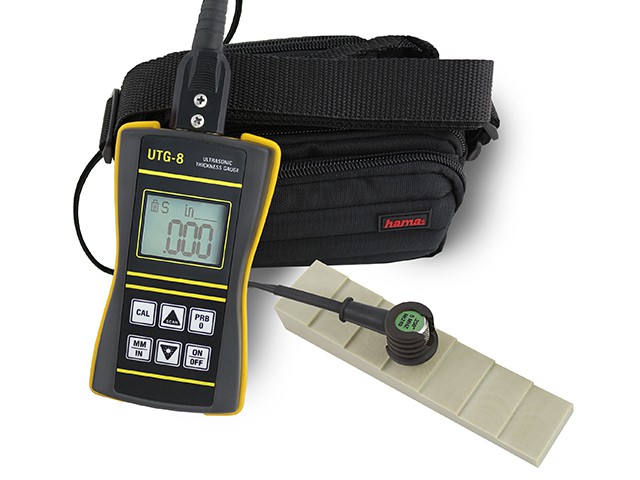 Transducers
---
Physical characteristics
Weight (including batteries): 300 g

Overall dimensions (W×H×D): 125 x 70 x 30 mm

Operating temperature: -20 to +50 ºС

Run time (with display backlight switched off) on alkaline batteries: 200 hours
on NiCad batteries: 120 hours
Probes
Probe type: Dual element (T/R)

Frequency range: 1 - 10 MHz

Connector type: LEMO

Cable length: 2 m.
Power source
Three "ААА" batteries: 1.5V alkaline or 1.2V NiCad
Display
Display type: FSTN/POSITIVE LCD.

Display size: 30mm (H) х 25mm (W).

Functional backlit display to be used in poor light conditions.

Measurement readings in inch, in/µs, mm or m/s.

Stable measurement indicator.
Measuring characteristics
Display mode: material thickness.

Measuring mode: PE.

Measuring rate in "Measuring" mode: 4 readings per second.

Measuring rate in "Scanning" mode: 16 readings per second, with minimum thickness record.

Range: 0.63 - 500 mm (0.025 - 19.999 in)

Accuracy: ± (0.05 + 0.002×Hm) mm

Resolution: 0.01 mm (0.001 in)

Velocity range: 1250 - 14000 m/s or 0.0492 - 0.5511 in/µs

Calibration options: single point, double point, velocity

V-correction: automatic

Zero calibration: manual (internal reference standard for thickness)
| | |
| --- | --- |
| Item | Q-ty, pcs. |
| Ultrasonic thickness gauge UTG-8 | 1 |
| AAA batteries | 3 |
| Soft bag | 1 |
| 0.25" 5 MHz ultrasonic piezoelectric transducer | 1 |
| Transducer`s shoe | 1 |
| Operating manual | 1 copy |
Related Products: