The TUZ-5 is a highly portable ultrasonic thickness gauge intended for measuring wall thicknesses in pipes, tanks as well as thicknesses of sheets and a whole range of components in different industries. The thickness gauge can be applied for corroded surfaces. As an ultrasonic gauge, it requires access to the test piece from one side only.
The device is lightweight and is worn on the hand strap it comes with.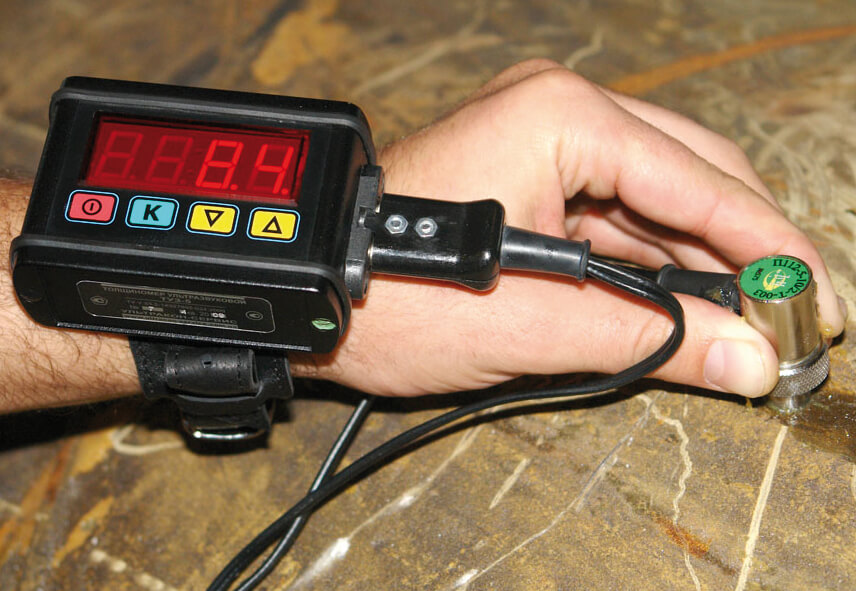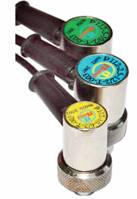 Key features:
compact;
long duration of continuous operation;
automatic zero calibration.
ТUZ-5 thickness gauge specifications:
Range of measuring thicknesses
0.6-300 mm
Weight of the thickness gauge with one probe
0.3 kg
Overall dimensions of the thickness gauge
64х89х36 mm
Time of operating mode setup
10 s
Time of continuous operation
20 hours
Sealing protection level
IР 64
Temperature mode
minus 30...+50 ˚С
Thickness gauge features

case is made of metal;
small overall dimensions;
possibility of thickness gauge fastening on the hand.
Metrological performance:
| | |
| --- | --- |
| Admissible absolute error ΔН | ± (0.1 + 0.005×Hx) mm |
| Admissible relative error δC | ± 1.5 % |
| Admissible additional error at the surface roughness of Rz=320 µm | ± 0.2 mm |
| Admissible additional error at the surface curvature radius of R=30 mm | ± 0.1 mm |
Probes for thickness gauge:
Ultrasonic double crystal probes for manual thickness gauges:
| | | | | |
| --- | --- | --- | --- | --- |
| Designation | Operating frequency, МHz | Operating range of thickness measurement, mm | Dimensions of working surface, mm | Overall dimensions of probes, mm |
| P112-10-6/2-Т-003 | 10±1 | 0.6 – 20 | 9 | 22х39 |
| P112-5-10/2-Т-003 | 5±0.5 | 1 – 100 | 14 | 22х42 |
| P112-2.5-12/2-Т-003 | 2.5±0.25 | 3 – 300 | 16 | 24х42 |
View TUZ-5 Ultrasonic Thickness Gauge Kit
Related Products: