Last year the OKOndt GROUP expanded its presence in the Asian-Pacific region, setting up a site you are now at. In 2020, we took another step and added Chinese to the languages in which we provide information on our products. Now, you may visit our website www.okondt.cn and receive breaking news updates, learn about our recent developments, get to know the technical specifications of all the flaw detectors we offer.Our product portfolio includes portable devices and automated systems intended for highly reliable and reproducible nondestructive testing of: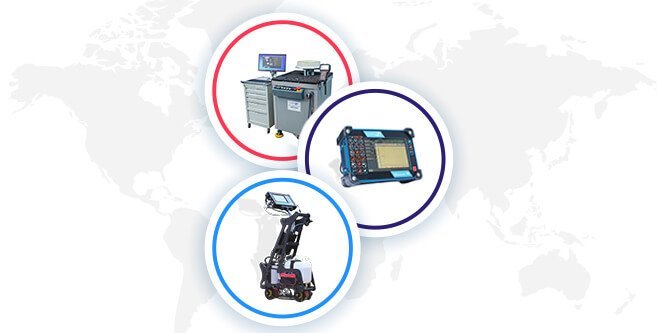 rails;
wheelsets and axles;
aircraft wheels, aircraft and helicopter plating, other aircraft parts and components;
pipes, tubes, and cisterns;
sheet metal;
welded joint, etc.
and recording of the inspection results in the data base.
All our products arrive carefully packed. The OKOndt GROUP engineers will consult you online or may come to your company to provide a training workshop. We offer highly customized solutions to help you tackle your most pressing challenges. At our site www.okondt.cn, you can contact our sales manager and consult us in Chinese.
Nondestructive testing is the only way to conduct an in-service inspection of many types of equipment. Our comprehensive range of products, utilizing various NDT technologies, includes ultrasound and eddy-current rail inspection trolleys, systems for inspection of wheels, axles, and welded joints, general purpose flaw detectors. We get a lot of inquiries from East Asian companies and have been working with some of them; we have our distributors in the region you may apply to.
We hope the new site will provide easier access to the information and will be of use to experts and NDT companies from China and other countries speaking Chinese.